The question is, what do you do better than your competitors?
It goes without saying that whatever you do;
– it must be important to the customer
– it must be feasible
– it mustn't?be easily copied
– it must be?consistently?communicated in the customer's own language
In marketing, there's always more than one angle when it comes to approaching a problem or an opportunity. In this article, I'll look at differentiation and establishing competitive advantage from the product offering perspective. By product, I mean, not just physical goods, but also services.
A competitive advantage can come from several different places, such as:
– superior quality of product/service
– brand image and reputation
– price
– innovative culture
– superior customer relationships
– offering only to a niche market
Here is a diagram explaining?the four main levels of products: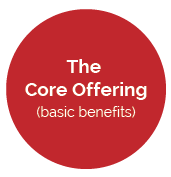 The Core Offering
These are the basic benefits that are also offered by your competitors. For example, selling books is the basic offering of Waterstones bookshop in Bath, UK (where I live), and of many other bookshops, large and small. It's difficult to create differentiation at the core level for any business, where similar products are available to the customer elsewhere.
The Expected offering
These are the additional benefits that a company is normally expected to provide, such as the packaging, quality, service, return policies, etc. As a customer, I expect Waterstones to have all of the above and more. Identifying and delivering what the customer expects certainly puts any business in a good standing point, but again they're not enough to differentiate and create a competitive advantage.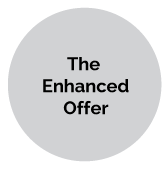 The Enhanced Offering
This is the stage where businesses can really create a competitive advantage by going beyond what's expected, and by offering additional benefits that aren't offered by anybody else. Most importantly, such benefits can't be easily copied. For example, over the years Waterstones evolved from 'just being a book shop' to a place where you can do many things at once:
You can drink coffee at their cafe, meet friends, take your child to their story time sessions, buy a last minute birthday card and wrapping paper, buy a Kindle, benefit from their loyalty scheme, go to book signings of famous authors, and the list goes on… (their online shop also offers many other benefits). Many businesses create differentiation at this stage: not just through physical product features and benefits, such as a cafe, but also through non-physical or emotional benefits such as a brand image and reputation, or long-term relationships with customers.

The potential offering
All the benefits that aren't yet offered but could be offered. This could be introducing a completely new product or simply modifying or improving an existing one.
Waterstones in Bath were already providing its customers with a comfortable browsing experience before they opened the cafe. Now, the Waterstones experience makes people stay longer in the store so that we can now enjoy it together with friends and family.
The same also is happening in Apple stores. They introduced a ?Genius? bar a few years ago to assist their customers with issues or guidance on using their products – building the brand relationship. They also have a kids size table with bubble seats designed for little people to play on iPads.
---
Points to take away
Creating a competitive advantage:

– requires the knowledge of your market, industry, customers and competitors.
– requires resources, and the trick is identifying and executing a strategy that will be effective and feasible within the given resources.
The more layer you add to your product the more value it offers to the customer.
Non-physical elements of a product offering, such as a brand are more difficult to copy.
An enhanced product offering can turn into an expected one if it's copied by others.
Note: I don't work for Waterstones but?I shop and read books there while sipping my coffee!
---
Resources
This article is based on one of the lectures I attended at UWE where I study Marketing.
The lecture by:?
Vafeas, M. (2014). Strategy Formulation Part 2.
MSC Marketing
. Available from: https://my.uwe.ac.uk [Accessed 13 Oct 2014]
Four main levels of products and services:?
Levitt, T. (1986)
The Marketing Imagination.
New York: The Free Press.
Image reference from:?
Hollensen, S. (2010)
Marketing Planning: A Global Perspective
. 2nd ed. Berkshire: McGraw-Hill.
---
---
If you'd like to learn more, sign up to my free 5-day course on how to make an impact with your brand 🙂
---